Do You Look Forward to Using an 18mm OSB Board?
Although the word "excited" is not usually associated with building materials. But there are several reasons why you should be keen on using 18mm OSB (Oriented Strand Board) in your construction or DIY projects. Because it is adaptable, affordable and environmentally friendly. OSB has gained popularity recently and is now a top choice among builders and homeowners. The astounding strength and endurance of 18mm OSB are among the most persuasive arguments for liking it. OSB is a strong and reliable material. Built to withstand a wide range of weather conditions and structural requirements, it consists of layers of compressed and bonded oak wire. The strength you want is provided by 18mm OSB. It can be used to make flooring, wainscoting or construct furniture.
A Must-Have for Your Construction Projects: The Versatile and Robust 18mm ROCPLEX OSB Board
Versatility and durability are important building materials that may make or ruin a project. A great winner in this respect is the 18mm OSB board, which finds use in various building applications. Whether you're a die-hard DIYer or an experienced builder. This sturdy and trustworthy board can become an important part of your toolbox.
The exceptional adaptability of the 18mm ROCPLEX OSB board is one of its distinguishing qualities. It effortlessly adjusts to different building demands, making it the preferred option for specialists throughout the sector. The extensive usage of this board in projects like flooring, roofing, wall sheathing, and even furniture manufacture demonstrates how versatile it is.
Strong Roofing and Flooring Foundation:
Stability and toughness are essential qualities for roofing and flooring. These crucial parts of any project benefit greatly from the sturdy foundation that the ROCPLEX 18mm OSB board provides. due to its structural integrity. It can support huge loads with ease, ensuring your floors remain level and your roof is strong. This reliability is especially important in areas that are regularly exposed to severe weather. Because the robustness of the circuit board can play a vital role.
Trustworthy Wall Sheathing:
Choosing the right sheathing material is critical to the strength and protection of your wall. Walls are the foundation of any structure. The ROCPLEX OSB board rises by providing remarkable strength and sturdy defence. It efficiently protects the inside of your building from the weather while offering a stable foundation for siding and insulation. If you use this board, you can be confident that your walls will be sturdy and withstand the test of time.
Craftsmanship and Robustness:
Artisans and furniture makers value the OSB board for its appropriateness in creating reliable and robust furniture components. The board's structural stability ensures your creations. Whether you design a traditional hardwood table or build custom cabinets, it will last for centuries. It is a favourite among individuals who take pleasure in their craft because of its capacity to retain fasteners firmly and resist warping.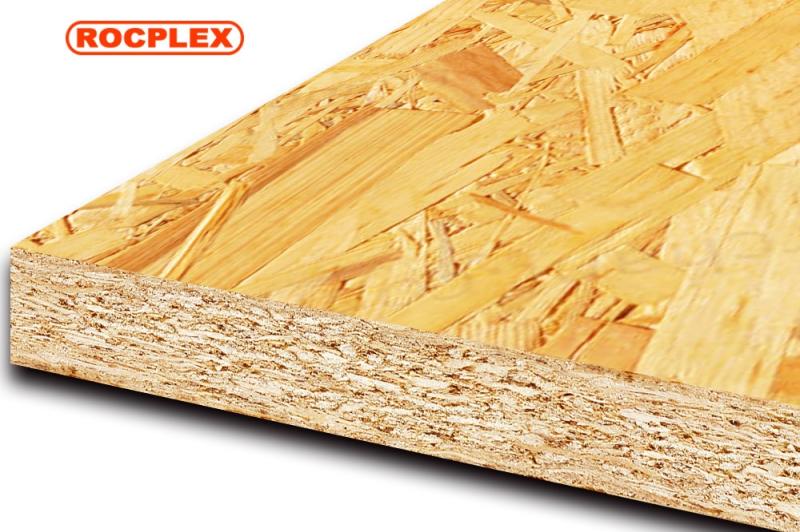 Exceptional Performance and Quality:
In the construction industry, performance and quality are crucial. The OSB board is of excellent quality. Its outstanding reliability and quality are evident in every project it touches. This board ensures long-lasting outcomes you can be proud of, whether working on a domestic restoration or a business building project.
What are the Strength, Endurance, and Affordability Benefits of the ROCPLEX 3/4 OSB Board?
The ROCPLEX 3/4 OSB (Oriented Strand Board) board is a standout option when selecting the best building supplies for your construction projects. This sturdy and adaptable board has several benefits, making it a popular choice for DIY enthusiasts, contractors, and builders.
The strength and longevity of the ROCPLEX 3/4 OSB board are two of its most important benefits. The wood used to make this engineered wood product has been intentionally oriented in a variety of directions. and connected through resin. Panels produced using this manufacturing technology have a high load-bearing capacity. Making it the perfect material for structural purposes including flooring, siding and roofing. Because of its capacity to bear enormous weights, you may be confident that your constructions will endure for many years.
The ROCPLEX OSB board is strong and impressively resistant to warping, cracking, and dampness. This board resists the effects of humidity and moist surroundings better than other construction materials, maintaining its structural integrity even under adverse circumstances. You can rely on the ROCPLEX OSB board to stay solid, whether in humid environments or wet places, assuring the endurance of your building projects.
The cost-effectiveness of the ROCPLEX OSB board is another noteworthy benefit. In contrast to other building materials like plywood or solid wood boards, OSB offers a cost-effective solution without sacrificing quality. Due to its accessibility, it is a desirable option for building projects of all sizes, enabling contractors to provide high-quality products while adhering to financial limitations. Cost-effectiveness includes material prices and installation expenses, benefiting industry experts and do-it-yourselfers.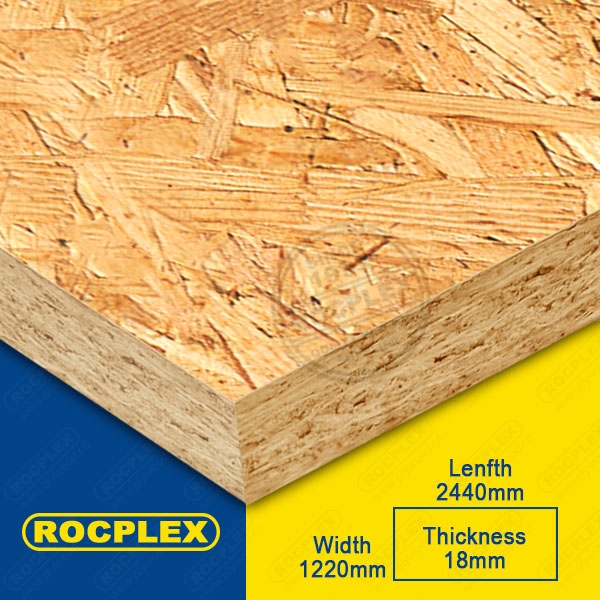 What uses are there for an 18mm OSB board?
The ROCPLEX OSB Board offers a solid and long-lasting foundation for flooring materials when used as subflooring or underlayment in building projects.
As wall sheathing, the board offers a robust and moisture-resistant defence against the elements.
ROCPLEX OSB Board is utilized in roofing applications, especially on low-slope or flat roofs, since it has good load-bearing capacity and moisture resistance.
A solid, long-lasting material that is simple to mould and polish, the board is also employed in furniture production.
In conclusion:
The ROCPLEX 18mm OSB board is a remarkable option for building projects thanks to a compelling combination of benefits. It is a robust and useful building material due to its affordability, resistance to dampness, durability, and strength. The ROCPLEX OSB board is a dependable and economical option that produces long-lasting results, whether you're working on a significant construction project or a DIY home renovation project. Our highly skilled team of quality control experts work directly with suppliers and manufacturers. Ensuring that every product we offer is of the highest quality. Providing reliable and long-lasting supply to our customers' projects.
---
Post time: Sep-12-2023