More than 25 years experience produce for wood panel OEM customers.
Since then , our group OEM wood panel in over 50 countries across five continents.
OEM/ODM Service
---
OEM/ODM orders are welcomed. We have great advantage in R&D, custom made of wood board products especially on plywood and melamine board.
With many years of experience in working with our customers from worldwide, we are viewed as a reliable strategic partner due to the level of experience and expertise offered in the development, design and commercial support of their products.
Professional Design
---
To ensure ROC OEM wood panel products can always catch the fashion trend and walk in the ahead of other competitors. We established a R&D Center with around 12 engineers design the and develop the wood panel, willing to provide better service to our customer and promote our competitiveness. We are committed to helping our clients to improve their enterprise brand image, enhance brand value, and shorten development LT, reducing production cost. We can provide one stop OEM/ODM service. In the past 5 years, the great team has made a big success. Lots of cases were accepted by customers and helped them to capture more market share.
Production Capacity
---
We have our own in plywood factory / OSB factory / MDF factory and LVL product factory, Tooling Factory to meet customer's required OEM production. Monthly output up to 70000CBM(PLYWOOD, OSB and MDF etc).
Quality Control
---
We have strict internal quality control process on incoming raw material inspection , on-production inspection and pre-shipment inspection. This is to ensure our products can meet customer's required spec and your OEM products are more reliable in quality. Our factory passed ISO9001 and our products got CE, FSC, JAS-ANZ,PEFC, BS etc certificates. We believe only with good quality then can win trust from our customers.
Customer Service
---
With years of exporting experience, we can handle customs declaration process smoothly and timely arrange local transportation to ensure on time delivery of our customer's shipment. We all believe the best service is the most import factor to win the trust from our customers in nowadays.
Start your new business with quality plywood, OSB and MDF. Let us make your OEM/ODM products and promote your business. Please contact ROCPLEX now.
OEM/ODM Procedure
---
What is the process of ROCPLEX wood panel OEM/ODM?
Light customization
Light customization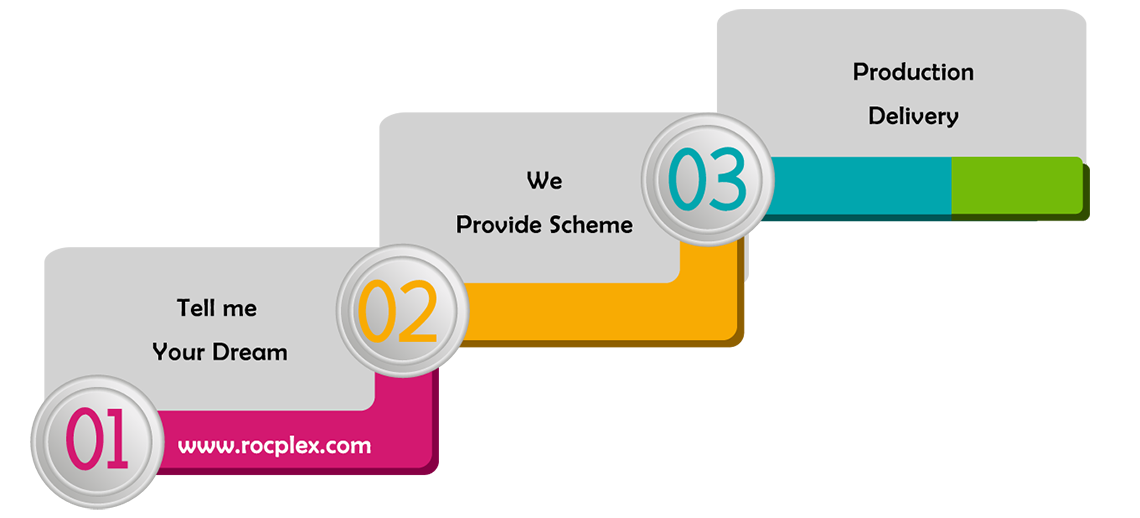 R&D Customization
Light customization
1. Requirement Analysis
As the first step of development, our production team are willing to engage in the requirement analysis. For some clients with a abstract concept, like a wood panel used in supermarket or use in construction site, we will arrange our engineering team, marketing team so that they provide their professional advice to make sure that the product meet the market anticipation.
In this step, we make a list of desired character of this your wood panel.
2. Technical Review
With a rough list of desired character, our production team, together with the purchasing department, communicates with our materials suppliers, to make a detailed configuration sheet of the components.
In this stage, we might revert to stage one due to some feasibility or cost-efficiency issue.
3. Cost and Schedule
Based on the previous research, ROCPLEX could provide a charge form and a schedule, which varies much on the desired characters, quantity and supply chain capability.
In this stage, we can sign the formal contract.
4. Development of Sample
ROCPLEX will make a sample, as called engineering sample, which process all the designed characters. This sample is then subject to boilng test, stability test, strength test and durability test.
We encourage client to engage in the development to provide instant feedback.
5. Test Order
With a satisfied engineering sample, we can move on to trial-produce stage. we assess the potential risk in consistency of massive production, reliability of supplier and massive production schedule.
6. Massive Production
With all the problems solved and risk detected, we enter into the last stage of massive production.
---
Post time: Mar-22-2023