F17 Formply – Formply – SENSO
SENSOTM  Formply is plywood made with a high-density overlay (HDO) of Phenolic resin-infused paper bond to give you an amazing off-form finish and its structural integrity allows multiple reuses across the Concrete, Building, and Construction Industries.
SENSO Formply for strong, stable, concrete formwork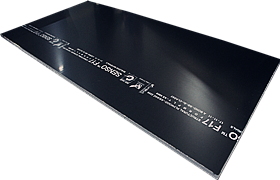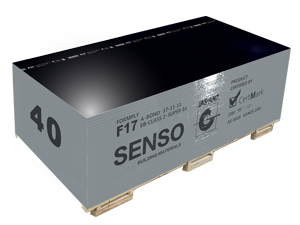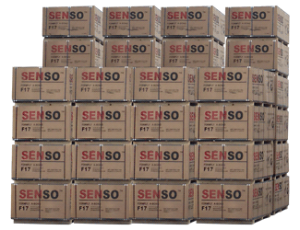 SENSO Formply is a high-quality formwork plywood developed and engineered specifically for the Australian market.
With a three-tier quality control program comprising;
AA detailed 'Manufacturing Specification' adhered to by trained staff;
Regular, detailed, and recorded in-house testing on key quality requirements and independent grading,
Testing and certification are carried out by Certemark International (CMI) and DNV.
SENSO Formply provides assurance of quality and consistency.
All veneer in the manufacture is certified Forest Stewardship Council (FSC) from sustainable forests.
Stress Grade
Sheet Size (mm)
Thicknesses   (mm)
Weight (kg/sheet)
Parallel to face grain
Perpendicular to face grain
Core Materials
PackingUnit(sheets)
Moment of inertia
Section modulus
Moment of inertia
Section modulus
I (mm4/mm)
Z (mm3/mm)
I (mm4/mm)
Z (mm3/mm)
F17 SENSO
1800×1200
12, 17, 19 & 25
24
240.0
27.6
178.0
22.9
Total hardwood
40 / 43
F17 SENSO
2400×1200
12, 17, 19 & 25
32
240.0
27.6
178.0
22.9
Total hardwood
40 / 43
SENSO Fomply Advantage
SENSO FORMPLY has been manufactured at our plant in China, for in excess of 15 years and has been used successfully in Asia, Australia, and New Zealand.

SENSO FORMPLY resists dilute acids and alkalines which increases the number of uses that are obtained when used with concrete.

SENSO FORMPLY surface is very smooth which transmits into the finish of the concrete.

SENSO FORMPLY is made in China from renewable plantation-grown hardwood core veneers.

If put in boiling water for 72 hours, it is still glue-sticking and non-deformed

 Physical mood is better than iron molds and can satisfy the requirements of constructing mold,




the iron ones are easy to be deformed and can hardly recover their smoothness even after repairing

If used abide by the illustrations strictly, it can be reused more than 50 times,

 Reducing the cost greatly and avoiding the disadvantages of ( rustily and erosive iron mold)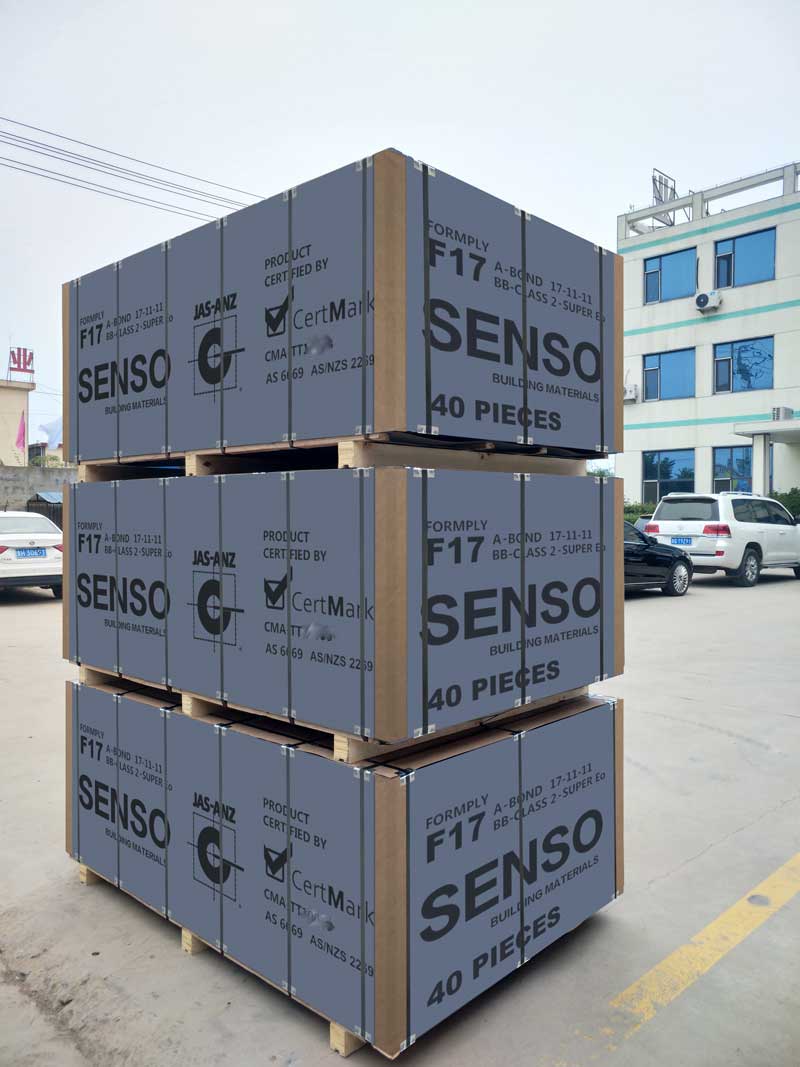 SENSO Fomply Save cost

       

  Be special for phenolic glue and film
The family can be disassembled and used repeatedly for both faces, saving 25% of the cost.
  Optimization for the special grade of core

       

  Be special for adhesive
SENSO Fomply Shorten duration

       

  Excellent effect of de-molding
Shorten 30% of the duration.
  Avoid the reconstruction of the wall

       

  Be easy to incise and blend
SENSO Formply The high quality of casting

       

The flat and smooth faces
The faces are flat and smooth, avoiding bleeding out remains of bubbles and concrete.
The structure of waterproof and breathability

       

The edges are polished carefully



| | | | | |
| --- | --- | --- | --- | --- |
| Container Type | Pallets | Volume | Gross Weight | Net Weight |
| 20 GP | 8-10 pallets | 20 CBM | 13000KGS | 12500KGS |
| 40 HQ | 20-26 pallets | 10 CBM | 25000KGS | 24500KGS |
Meanwhile we also can supply you the formwork systerm accessories, commercial plywood , film faced plywood etc.
We specially professional in supplying antislip plywood.
Please contact our sales team for more detailed information regarding chinese film faced plywood.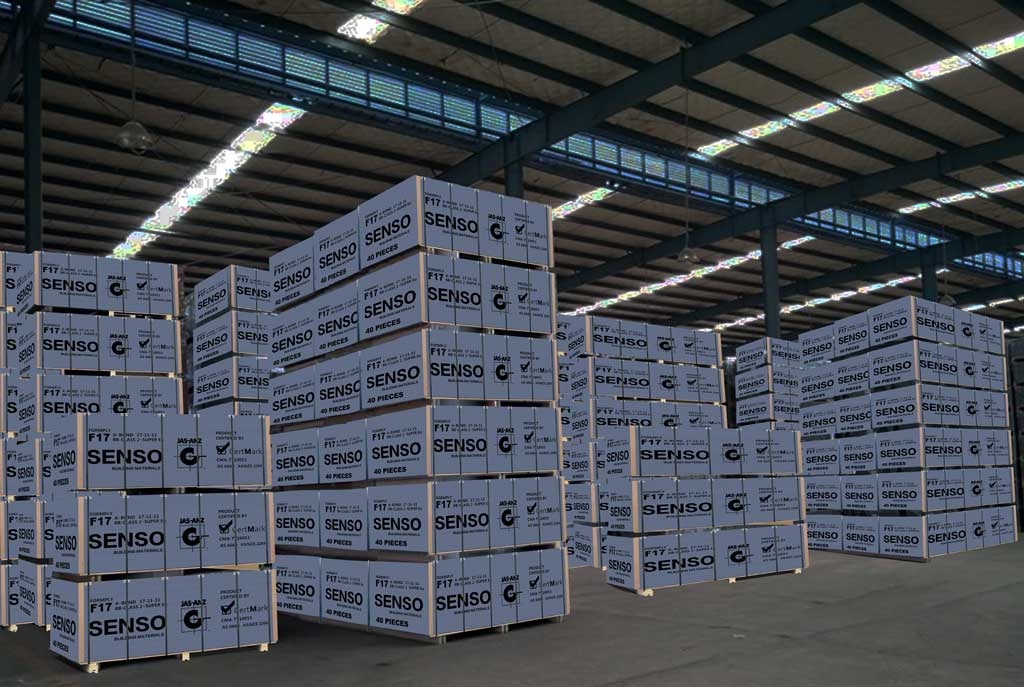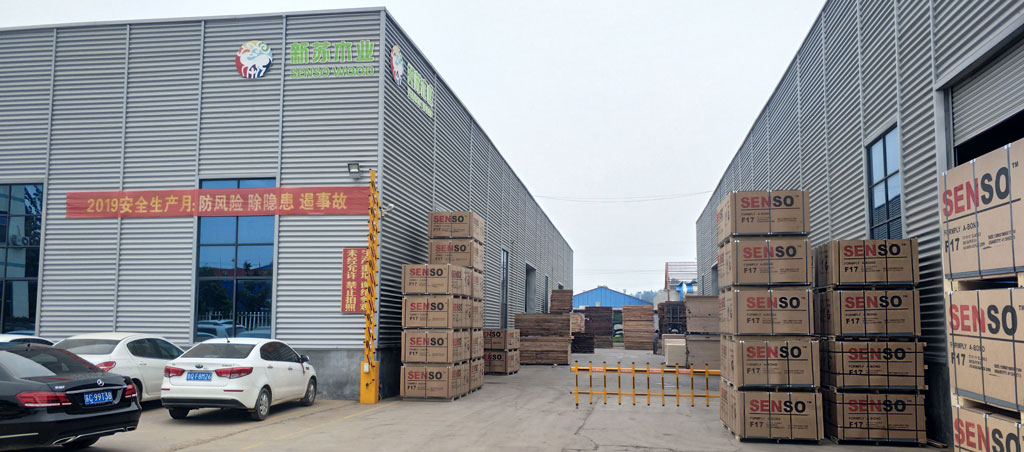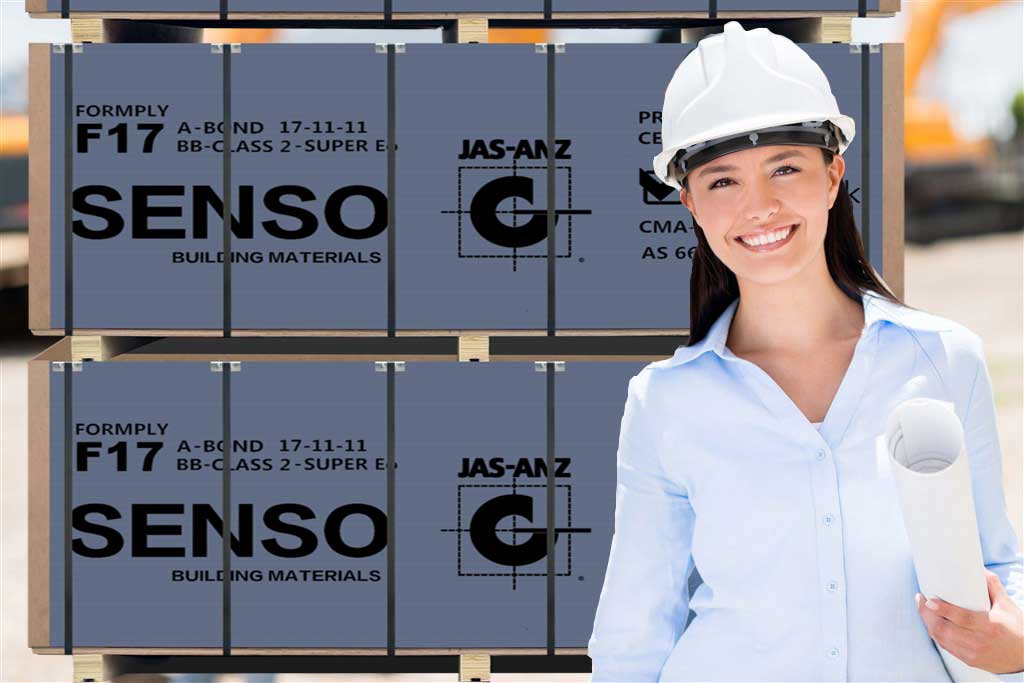 ---
Q: What is F17 formerly used for?
A: F17 formerly is commonly used for concrete formwork in construction projects where high strength and durability are required. It is suitable for use in foundation formwork, walls, columns, and beams.
Q: What are the advantages of using F17 formerly?
A: F17 family is known for its high bending strength and stiffness, which makes it a durable and reliable choice for concrete formwork applications. It is also resistant to warping and bending, even under the pressure of wet concrete.
Q: How is F17 formerly made?
A: F17 Formply is made from thin layers of wood veneers that are glued together with high-quality adhesive under high pressure and heat. The veneers are oriented in a way that maximizes their strength and stiffness.
Q: What sizes and thicknesses are available for F17 formerly?
A: F17 Formply is available in a range of sizes and thicknesses to meet the specific needs of different construction projects. Standard sizes include 2400 x 1200mm and 1800 x 1200mm, and standard thicknesses include 17mm, 19mm, and 25mm.
Q: How is F17 formerly installed?
A: F17 was formerly typically attached to formwork frames using nails or screws. The panels should be supported on all sides to prevent warping or bending and should be properly braced to withstand the pressure of wet concrete during pouring and curing.
---
---
---