Revolutionize Construction with SENSO Formwork LVL: Unleash Innovation in Formwork Solutions
Introducing SENSO Formwork LVL Edge Form, a premium engineered wood solution tailored for edge formwork applications in construction. With its 100x36mm dimension and 6-meter length, this Laminated Veneer Lumber (LVL) product guarantees exceptional strength, durability, and versatility for formwork needs. Crafted by bonding thin wood veneers with adhesive under pressure, it ensures structural integrity, dimensional stability, and easy handling during installation. Designed to withstand the demands of concrete pouring, SENSO Formwork LVL Edge Form is a reliable choice, offering efficiency, quality finish, and reusability for sustainable construction practices.
SENSOform Formwok LVL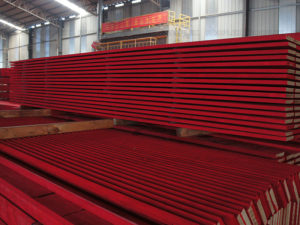 Components of
SENSO Formwork LVL:
Laminated Veneer Lumber (LVL):

The core material of the LVL Edge Form is high-quality Laminated Veneer Lumber.
LVL is engineered using multiple layers of wood veneers bonded with adhesive, resulting in superior strength and dimensional stability.

Edge Profile Design:

The 100x36mm dimensions provide optimal support for formwork applications.
The edge profile enhances structural integrity and simplifies handling during installation.

Length: 6m:

The 6-meter length of the LVL Edge Form offers versatility in various construction scenarios.
Longer lengths reduce the need for frequent joints, enhancing efficiency.

Formwork Application:

SENSO Formwork LVL Edgeform is specifically designed for formwork systems.
Its robust construction and edge durability ensure consistent performance in concrete shaping.

Engineered Strength:

The engineered wood construction delivers impressive load-bearing capacity.
It withstands the pressures of concrete pouring, providing stable and reliable formwork support.

Enhanced Durability:

The LVL Edge Form is designed to endure the rigors of construction environments.
It offers resistance to moisture, chemicals, and abrasion, extending its lifespan.

Sustainable Choice:

SENSO's LVL Edge Form is an environmentally conscious choice.
Engineered wood utilizes sustainable timber resources, contributing to eco-friendly practices.

Ease of Handling:

Despite its strength, the LVL Edge Form is lightweight, easing transportation and installation.
Its user-friendly design streamlines the formwork process.
Refer to the Specifications below for specifications on the major types of LVL formwork supplied by ROCPLEX or contact us to discuss further your needs.
SENSOform Formwok LVLPacking and Loading
| | | | | |
| --- | --- | --- | --- | --- |
| Container Type | Pallets | Volume | Gross Weight | Net Weight |
| 20 GP | 6 pallets | 20 CBM | 20000KGS | 19500KGS |
| 40 HQ | 12pallets | 40 CBM | 25000KGS | 24500KGS |

---
---