Buy Premium Quality ROCPLEX OSB Board 15mm OSB1, OSB2, OSB3, OSB4
ROCPLEX OSB 3 TECHNICAL SPECIFICATION

PRODUCT

OSB/3

MATERIALS

POPLAR,PINE

SIZE

1220×2440  

GLUE

E1 GLUE

THICKNESS




6~10mm

10~18mm     

18~25mm

STATIC BENDING STRENGTH:HORIZONAL

N/mm2

28

28

26

VERTICAL

N/mm2

15

15

14

ELASTIC MODULUS:HORIZONAL

N/mm2

4000

VERTICAL

N/mm2

1900

INTERNAL BONDING STRENGTH 

N/mm2

0.34

0.32

0.30

EXPANSION RATE




OF WATER ABSORPTION

%

≤10

DENSITY

KG/M3

640±20

MOISTURE

%

9±4

FORMALDEHYDE EMISSION

PPM

≤0.03             EO GRADE

TEST




AFTER THE CYCLE 

STATIC BENDING STRENGTH




PARALLEL

N/mm2

11

10

9

INTERNAL BONDING STRENGTH 

N/mm2

0.18

0.15

0.14

INTERNAL BONDING STRENGTH




AFTER BOILING

N/mm2

0.15

0.14

0.13

EDGE THICKNESS(WITH THICKNESS




TOLERANCE)

MM

±0.3

COEFFICIENT OF HEAT CONDUCTION

W/(Mk)

0.13

FIRE RATING 

/

B2
| | | | | |
| --- | --- | --- | --- | --- |
| Container type | Pallets | Volume | Gross weight | Net weight |
| 20 GP | 8 pallets | 21 CBM | 13000KGS | 12500KGS |
| 40 GP | 16 pallets | 42 CBM | 25000KGS | 24500KGS |
| 40 HQ | 18 pallets | 53 CBM | 28000KGS | 27500KGS |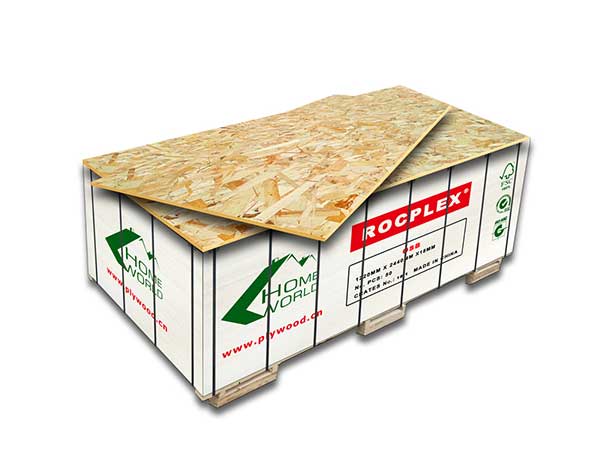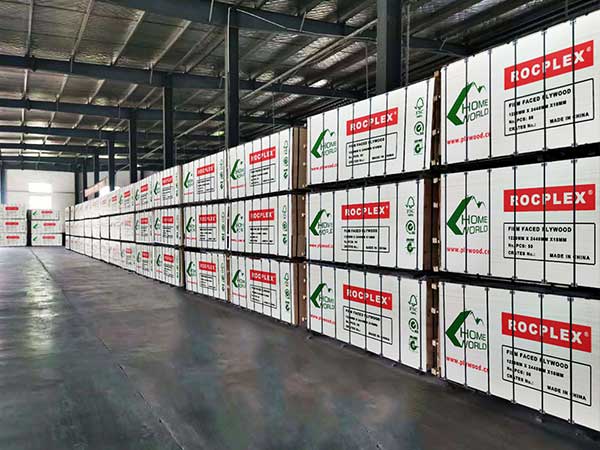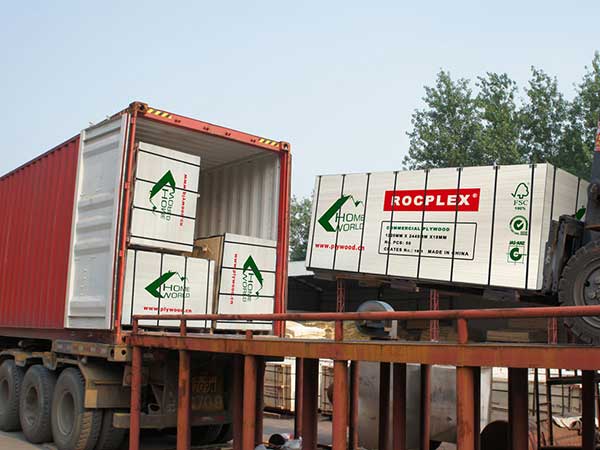 ---
15mm – ROCPLEX OSB Board FAQ
Q: What is the difference between ROCPLEX OSB and plywood?
A: ROCPLEX OSB is made from wood strands that are arranged in specific orientations and glued together under high pressure and temperature, while plywood is made from thin layers of wood veneer that are glued together with alternating grain directions. Both materials are used in construction, but ROCPLEX OSB is typically less expensive than plywood and can offer similar strength and durability.
Q: What are the common applications of the ROCPLEX OSB Board?
A: ROCPLEX OSB boards are used in a variety of applications including roofing, flooring, walls, sheathing, packaging, and furniture. The specific grade of OSB should be selected based on the intended use and environmental conditions.
Q: How do I cut and install ROCPLEX OSB Board?
A: ROCPLEX OSB can be cut with a saw, and the edges should be sanded or smoothed to prevent splintering. The boards can be installed using nails or screws, and the specific installation method will depend on the application and the specific grade of OSB being used.
Q: Is ROCPLEX OSB environmentally friendly?
A: ROCPLEX OSB is considered to be environmentally friendly because it is made from wood strands that are sourced from sustainable forests and the manufacturing process is efficient and produces minimal waste. Additionally, OSB can be recycled or used for energy production at the end of its life.
---
---
Previous:
Revolutionize Construction with SENSO Formwork LVL: Unleash Innovation in Formwork Solutions
---